Grant Writing: How Organization, Storytelling, and Relationship Building Can Support Your Small Business
September 2, 2022 @ 11:00 am

-

12:30 pm

PDT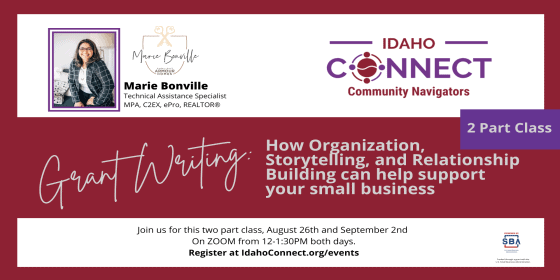 Join us for this two session course August 26 and Sept 2 from 11 am-12:30 pm on Zoom. Cost is free, but you must register to attend.
In this two-part Grant Writing series, we will debunk the myth that grants are just "free" money. Instead, we will provide an in-depth look at how successful grant writing can grow your business skills exponentially. Grant writing helps promote healthy business best practices, provides clarity and commitment to your business plan, and promotes strategic partnerships that align with your small business goals. Join this training to learn or enhance your skills and write your first successful grant.
Session One
Grant Writing Essentials: Writing basics, Gathering facts and figures, Identifying your business capacity. Understanding the Assignment: Researching and evaluating grant opportunities, Learn how to determine which grants align with your business goals, objectives, and capacity.
Session Two
Developing the Narrative: Describe your business storyline. Like any good book, tv show, or movie, there should be a captivating beginning, middle, and end. Your Grant proposal must address why the grant funding opportunity is a strategic input for your business that demonstrates how it can create a positive outcome for your business and, hopefully, the community clients or customers you serve. Positive funder follow-up and acknowledgment, for example, is just one of many tools grant writers use to create positive and lasting relationships. Successful grant management and reporting are directly linked to opportunities for future funding.
Instructor Bio
Marie Bonville proudly began her professional career with the Seminole Tribe of Florida (STOF) and has since provided housing and educationtraining nationwide. Former positions include Higher Education Recruiter, Adult Vocational Administrator, Professional Development Program Manager, and Director of Training & Technical Assistance for the Native Learning Center (NLC). As owner and principal trainer for Sunlight Armour Homes, LLC, Marie develops training curricula in homeownership education, housing compliance, organizational management, and community development. She also provides onsite and online training for underserved and underrepresented communities in coordination with Tribal housing authorities and HUD's Office of Native American Programs. Marie has a Bachelor's in Political Science with a minor in International Relations and a Master's in Public Administration with a Certificate in Community Development from Florida International University.Additionally, Marie is the co-owner and operator of Sunlight Armour Homes, LLC, which provides construction, remodeling, and real estate services in North West, GA. She is a proud wife and mother of 2 and currently resides in Acworth, Georgia.