HACCP/Fish Processing Training
August 28 @ 9:00 am

-

August 29 @ 4:00 pm

PDT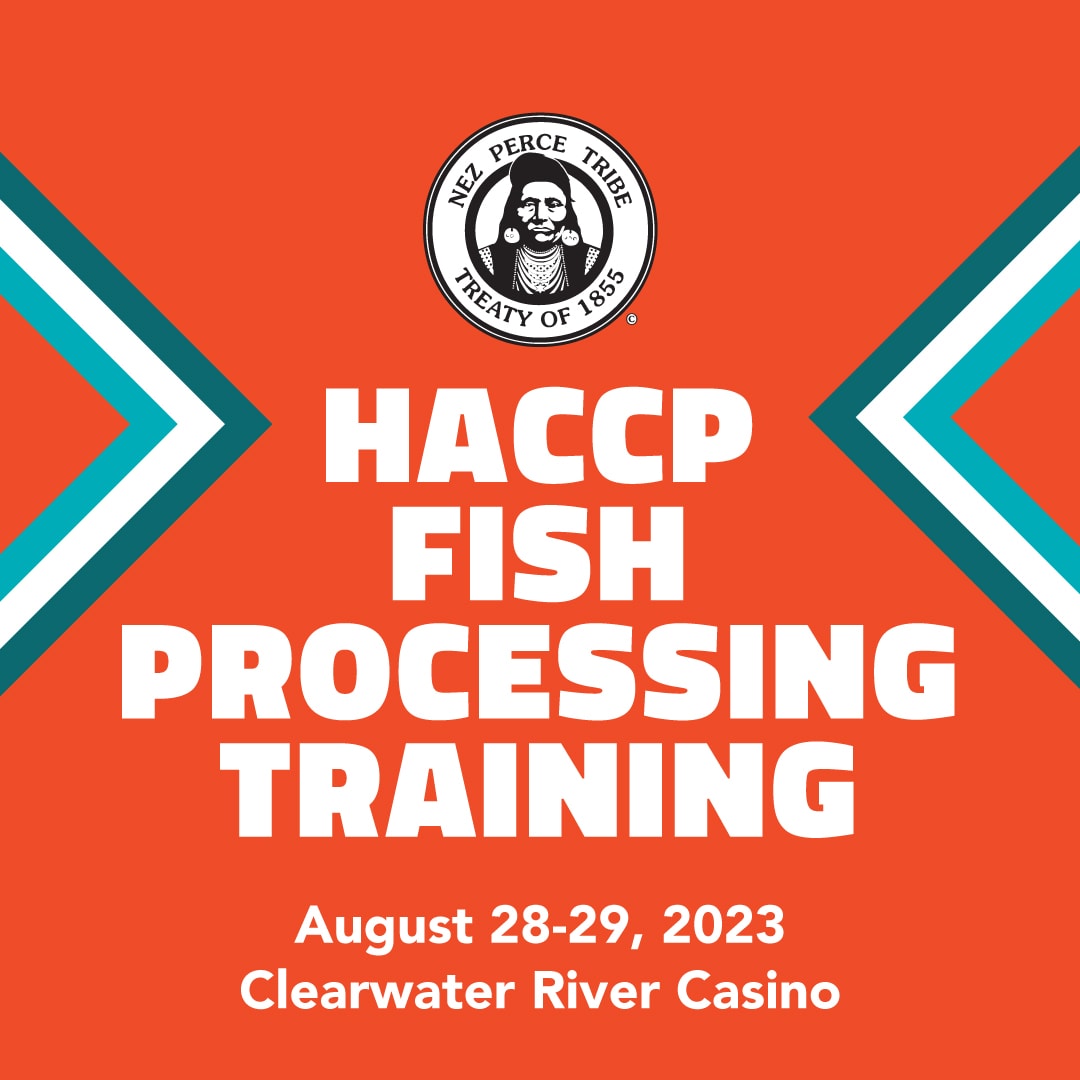 Nez Perce Tribal Members who sell fish or who will be processing fish for the 2023 Tribal Snake Basin Fall Season Fish Buys 
Instructor Dr. Gleyn Bledsoe
Each participant will receive the course materials used for this training. 

---
This Hazard Analysis Critical Control Point (HACCP)/Fish Processing training is provided in support of the 2023 Snake River Basin Fall Season fish buys.  The purpose of the Fish Buy Initiative is to increase the Tribe's ability to catch more of the treaty harvest share of Fall Chinook, Coho salmon and Steelhead in the mainstem Snake River and its tributaries.  These fish that are harvested will be processed (filleted), vacuum-sealed, and will be stored in a freezer to give out to tribal members and their families to eat whenever they need them to help meet their dietary needs. 
HACCP is a technology designed system to ensure safe food and prevent hazards that could cause food-borne illnesses by applying science-based controls from raw materials to finished products.  HACCP is required for enrolled Nez Perce that choose to sell and process fish as part of the Fish Buy Initiative.   
This training will also focus on the development of practices and procedures appropriate to processing/preserving salmon and steelhead for tribal food security.  This will involve basic fresh fish processing from harvest to market, value added fish processing (portion control, filleting, packaging), and freezing fish. 
Having HACCP certified fish processors will promote fish being handled and processed in a safe and sanitary manner.   
RSVP: Space is limited so please enroll by Friday at 12:00PM (Pacific time). Tribal members can enroll in this training by contacting Fisheries Staff Jack Yearout (208)-843-7320 ext. 4638, Samuel Greene at (208)-413-4226, or Erik Holt of the Fish and Wildlife Commission at (208)-791-4853. Lunch and drinks will be provided on both days.