Innovation Challenge for Arizona-Based Indigenous Entrepreneurs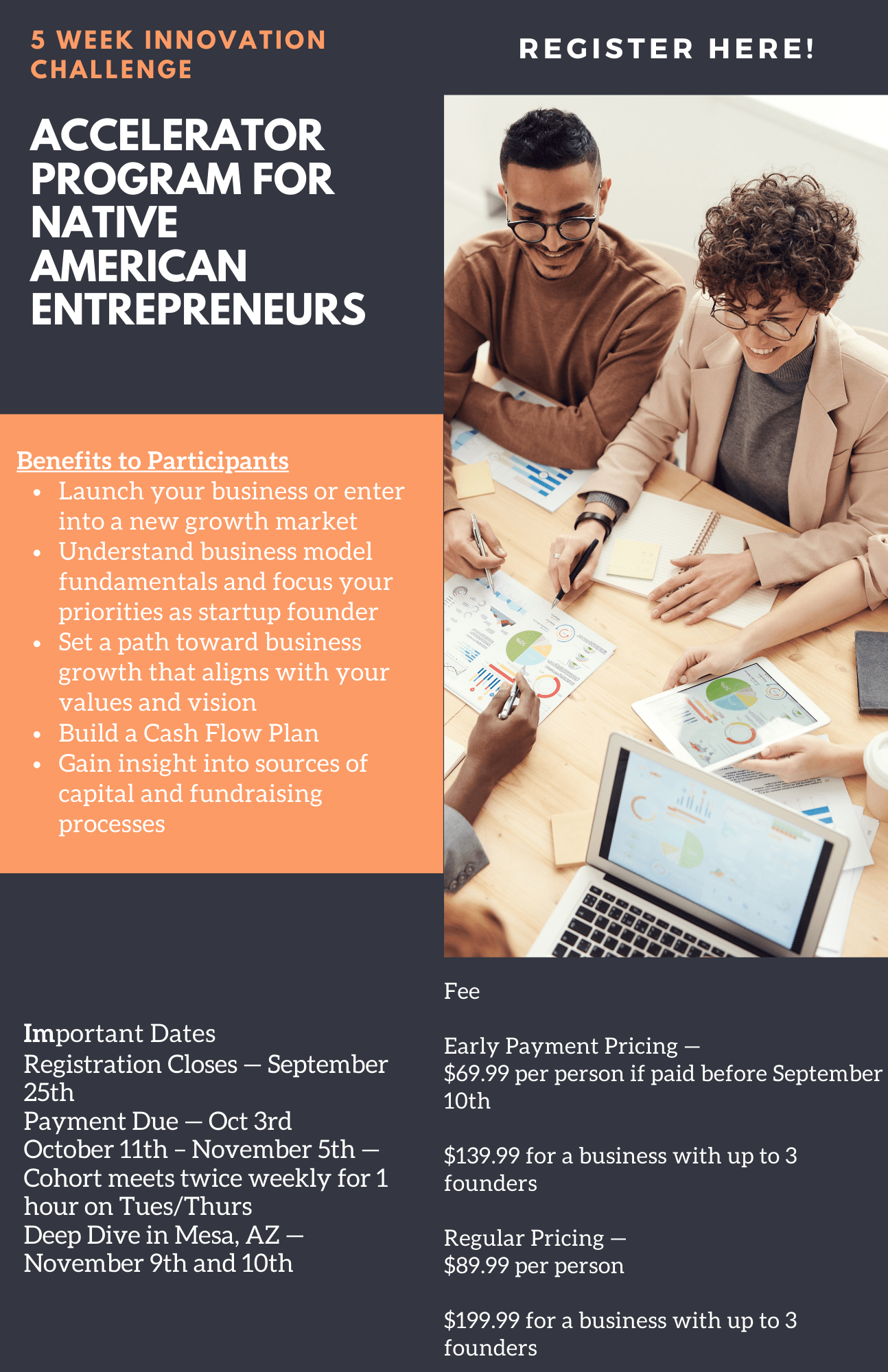 The National Center for American Indian Enterprise Development and Creative Startups are partnering to bring a new accelerator program to Native American entrepreneurs and businesses based in Arizona. Innovation Challenge is a five-week, intensive, cohort-based, and hands-on course providing entrepreneurs essential knowledge and insights into pathways to business growth and sustainability.

Program Overview

This course is ideal for Native American entrepreneurs building businesses in innovation and creative fields including tech, animation and gaming, film and media, fashion and design, food and agriculture, and more. Ideal applicants are in earlier stages of business set-up and growth, with revenues below $250,000. For more advanced businesses, sign up to be notified when we open applications for our full Accelerator.
New Mexican-based Indigenous entrepreneurs and businesses can also apply, but space is limited and Arizona-based businesses will take precedence. 

Weekly cohort meetings will take place online using Zoom. The program culminates in an in-person 2-day gathering "Deep Dive" to be hosted at the NCAIED offices in Mesa, Arizona on November 9th and 10th.
Benefits to Participants

Launch your business or enter into a new growth market 




Understand business model fundamentals and focus your priorities as startup founder  




Set a path toward business growth that aligns with your values and vision 




Build a Cash Flow Plan 




Gain insight into sources of capital and fundraising processes



Important Dates

Registration Closes — September 25th

Payment Due — Oct 3rd

October 11th – November 5th — Cohort meets twice weekly for 1 hour on Tues/Thurs

Deep Dive in Mesa, AZ — November 9th and 10th 

Fee

Early Payment Pricing —

$69.99 per person if paid before September 10th
$139.99 for a business with up to 3 founders
Regular Pricing —

$199.99 for a business with up to 3 founders
Course fee covers all course content and materials, meals during Deep Dive.

Participants are responsible for their own travel expenses.

Payment due upon registration.