Native Business Development Empowerment Workshop Series
May 27, 2021 @ 1:00 pm

-

July 1, 2021 @ 3:00 pm

PDT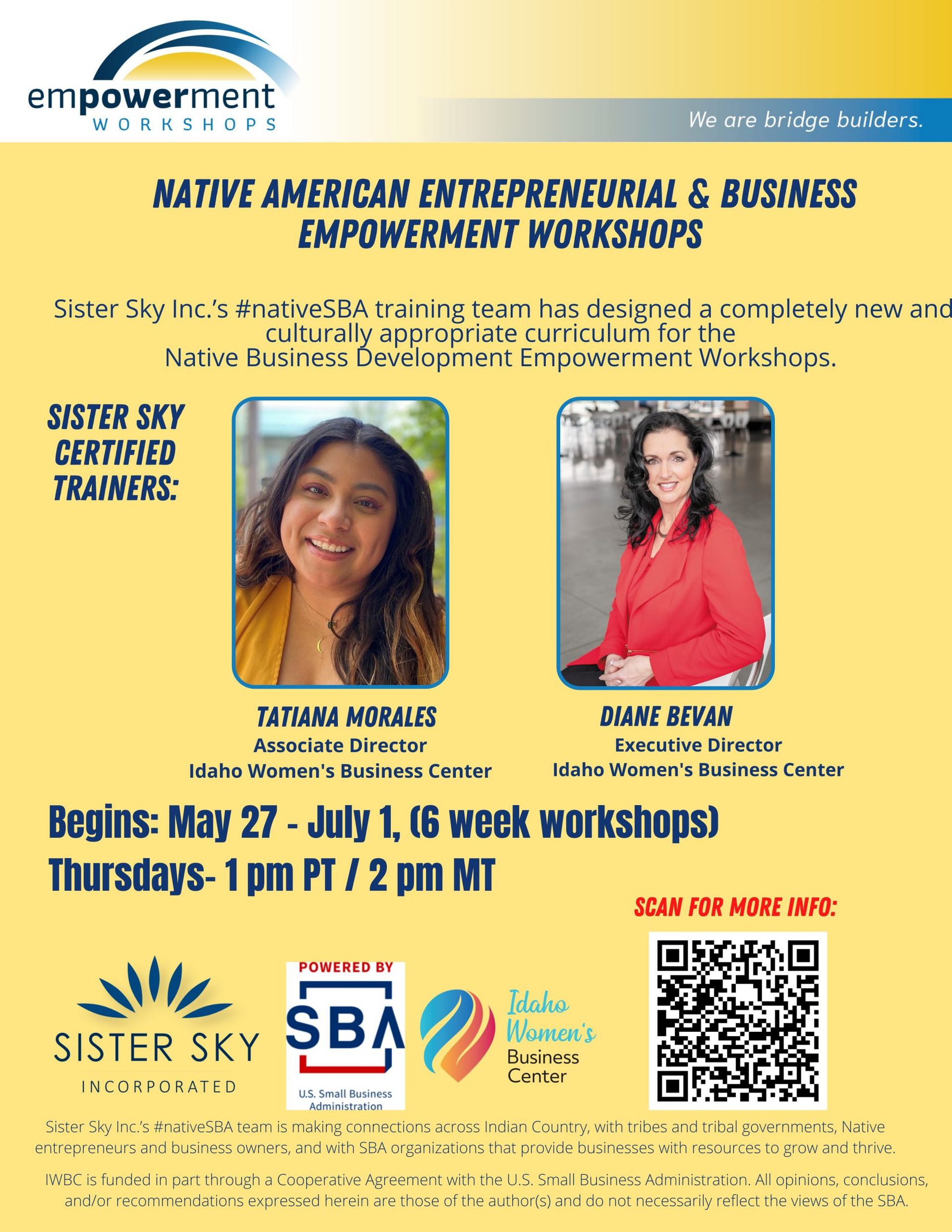 This is a FREE 6 week session, but we ask that you only sign up if you can commit to all 6 weeks, either in attendance or in committing to watch the recording after to stay caught up with the class. We recognize that at times it is necessary to miss a class. The recordings are emailed after the class for those instances to keep every student on schedule. 
Native American Business Development
Sister Sky Inc.'s #nativeSBA training team has designed a completely new and culturally appropriate curriculum for the Native Business Development Empowerment Workshops.  Sister Sky Inc., a 100% Native American-owned, SBA-certified 8(a) Economically Disadvantaged Woman Owned Small Business (EDWOSB). Content created by the Sisters Sky organization and taught by Idaho Women's Business Center, Executive Director, Diane Bevan and Associate Director, Tatiana Morales.
About the Modules
Module 1 will orient the participant to the world of entrepreneurship as well as build the confidence and motivation for a would-be entrepreneur to see themselves as a successful business owner.
Module 2 is designed to develop effective marketing strategies to sustain a successful business. Market research blends consumer behavior and economic trends to confirm and improve your business idea.
Module 3 will introduce the basic structure and operations of business. Participants will determine the best business structure for their business. Realize the operations necessary to run a successful business.
Module 4 will explain the basics and purpose of cash flow and how it impacts your business activities.  Learn how to make cash flow projections and determine break-even.
Module 5 is about the importance of and reasons for keeping good records. Participants will have a business records plan and know the reconciliation process.
Module 6 gives a brief overview of the process and requirements for financing a business. Know their options for funding a business and be knowledgeable about a personal financial statement and business tax forms.
Module 7 is designed to introduce the concept of a pop-up economy, a nationwide trend. Understand what a pop-up economy offers to would-be entrepreneurs and existing business.
Module 8 explains the importance of business resources and capacity building. Identify business resources important to building a small business.
Meet peers and colleagues, people just like you who are on the journey of founding their own small business!
Receive technical assistance during and after the workshop to ask questions, get support, work directly with instructors, and find business development resources in your region to move your business forward.
Join the nationwide #nativeSBA virtual community on Facebook and stay connected after your class ends!
Under contract with the U.S. Small Business Administration, Office of Native American Affairs, the Native American Business Development Empowerment Workshops is operated by Sister Sky Inc., a 100% Native American-owned, SBA-certified 8(a) Economically Disadvantaged Woman Owned Small Business (EDWOSB).