ONABEN Empower 2.0 by GoDaddy Bootcamp
April 17, 2021 @ 10:00 am

-

5:00 pm

PDT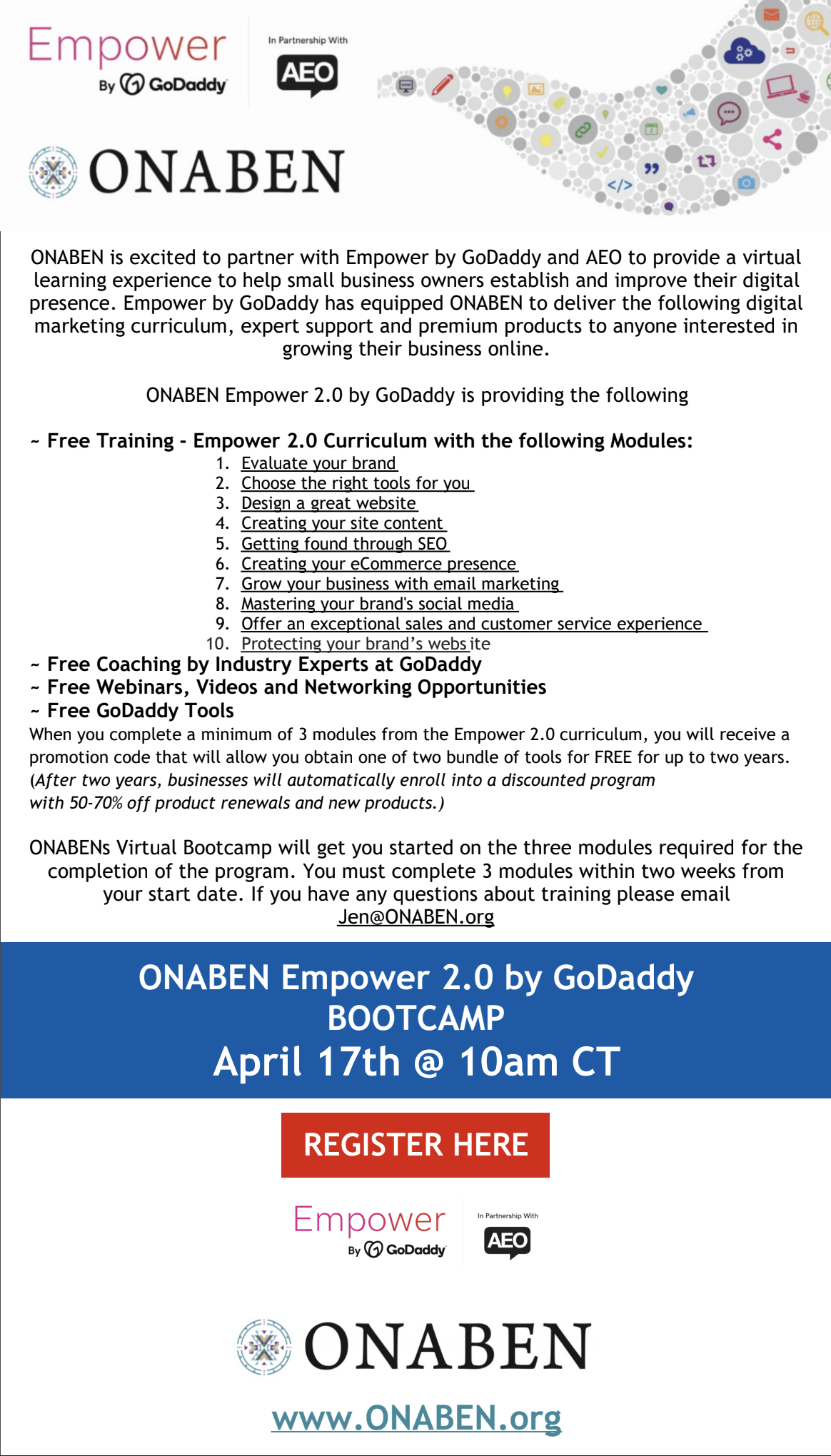 ONABEN is excited to partner with Empower by GoDaddy and AEO to provide a virtual learning experience to help small business owners establish and improve their digital presence. Empower by GoDaddy has equipped ONABEN to deliver the following digital marketing curriculum, expert support and premium products to anyone interested in growing their business online.
Free Training: Empower 2.0 Curriculum with the following Modules:
1. Evaluate your brand
2. Choose the right tools for you
3. Design a great website
4. Creating your site content
5. Getting found through SEO
6. Creating your eCommerce presence
7. Grow your business with email marketing
8. Mastering your brand's social media
9. Offer an exceptional sales and customer service experience
10. Protecting your brand's website
Free Coaching by Industry Experts at GoDaddy
Free Webinars, Videos and Networking Opportunities
Free GoDaddy Tools
When you complete a minimum of 3 modules from the Empower 2.0 curriculum, you will receive a promotion code that will allow you obtain one of two bundle of tools for FREE for up to two years. (After two years, businesses will automatically enroll into a discounted program with 50-70% off product renewals and new products.)
ONABENs Virtual Bootcamp will get you started on the three modules required for the completion of the program. You must complete 3 modules within two weeks from your start date. If you have any questions about training please email [email protected].