Technology Course: Technology in Small Business
March 8 @ 12:00 pm

-

1:00 pm

PST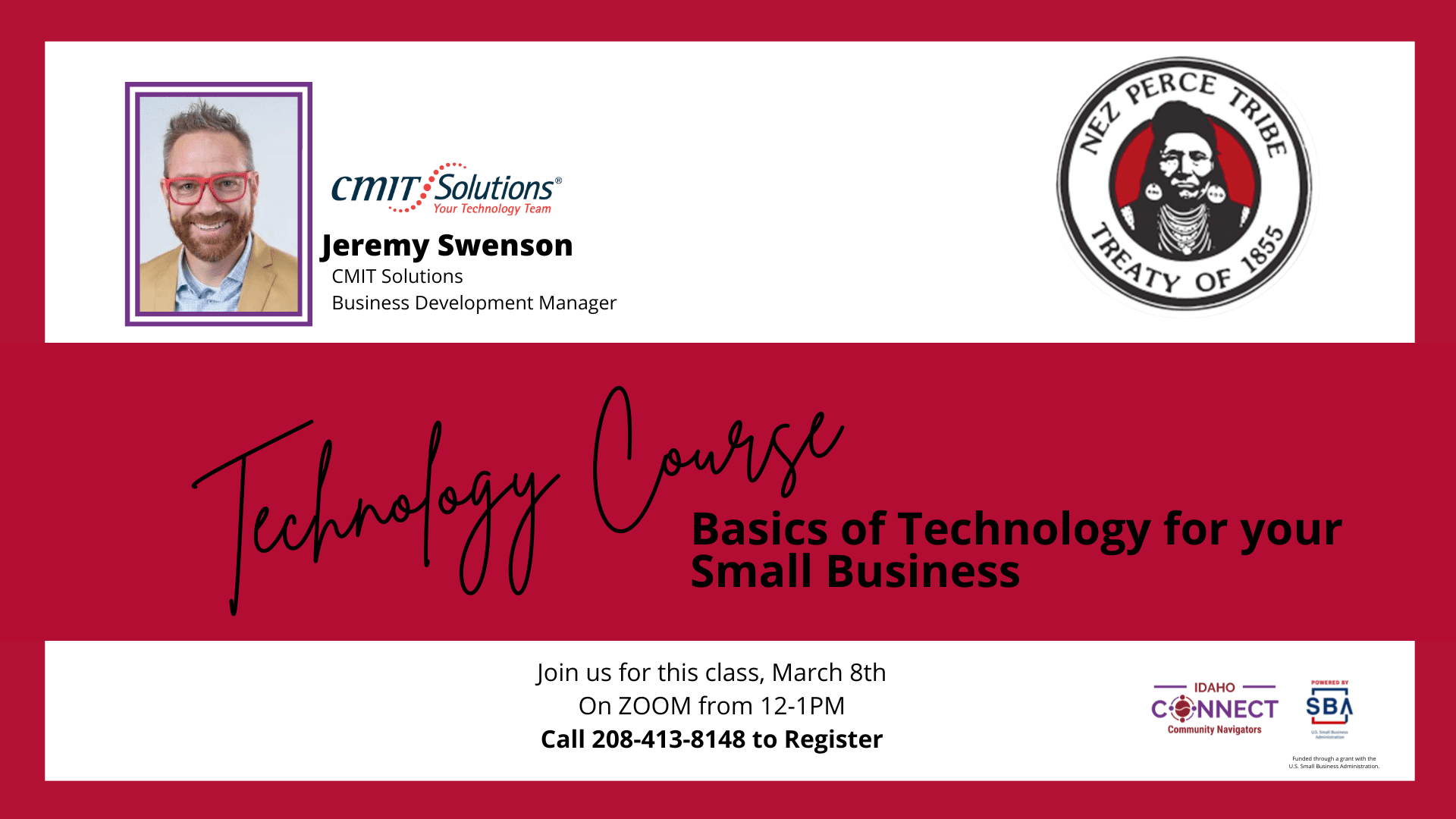 3/8/2023
 12:00 PM – 1:00 PM (PST)
No Fee
Ann McCormack (208) 996-1570
 Online Meeting (Live)
Business Operations
Join us for one of our Quarterly Education Series Events: Technology in Small Businesses
·        Why Technology is Important – Why should you care?
·        Basic Technology you should have as a Business
·        Cybersecurity – why this is important
·        IT Partner – Get one!
Meet your Instructor: 
Jeremy Swenson, Business Development Manager of CIMT
CMIT Solutions, Inc. stands for (Completely Managed Information Technology) and we manage IT systems for businesses that depend on reliable technology to thrive.
At CMIT Solutions, we specialize in delivering enterprise-level support worthy of a Fortune 500 company – at a price a small to medium-sized business can appreciate. Even better, we combine the best of both worlds: a local presence, close at hand for your business, coupled with the backing of a nationwide network of more than 170 locations and 800 technicians. Therefore, we specialize in serving local businesses in our community and we excel when supporting companies with multiple locations.
CMIT Solutions provides responsive, professional IT support and technology services for your business, performing regular ongoing maintenance, monitoring, and backups – everything necessary to ensure an efficient, safe, and reliable IT environment. We operate on a managed services model that offers proactive outsourced IT services, helping our clients grow revenue, reduce operating costs and mitigate risk.
We wrap outstanding technology with personalized service and help our clients focus on their business while we take care of all the technical work. We respond quickly when devices in your network and business experience an issue. More importantly, we keep your IT system running efficiently 24 hours a day, seven days a week. Some of our services include:
• Virtual Chief Information/Technology Officer (CIO/CTO) services
• Remote Monitoring & Management of office computers, networks & systems
• 24/7 IT Service Help Desk available by chat, phone, & email
• Data Protection (loss prevention, backup & recovery)
• Cyber Security Risk Assessments, Multi-Layered Defenses & Comprehensive Protection
In addition, we provide more than just IT support services. We partner with our clients — offering your very own technology team outside the office to give you a competitive advantage and freeing you up to focus on taking your business to new heights.