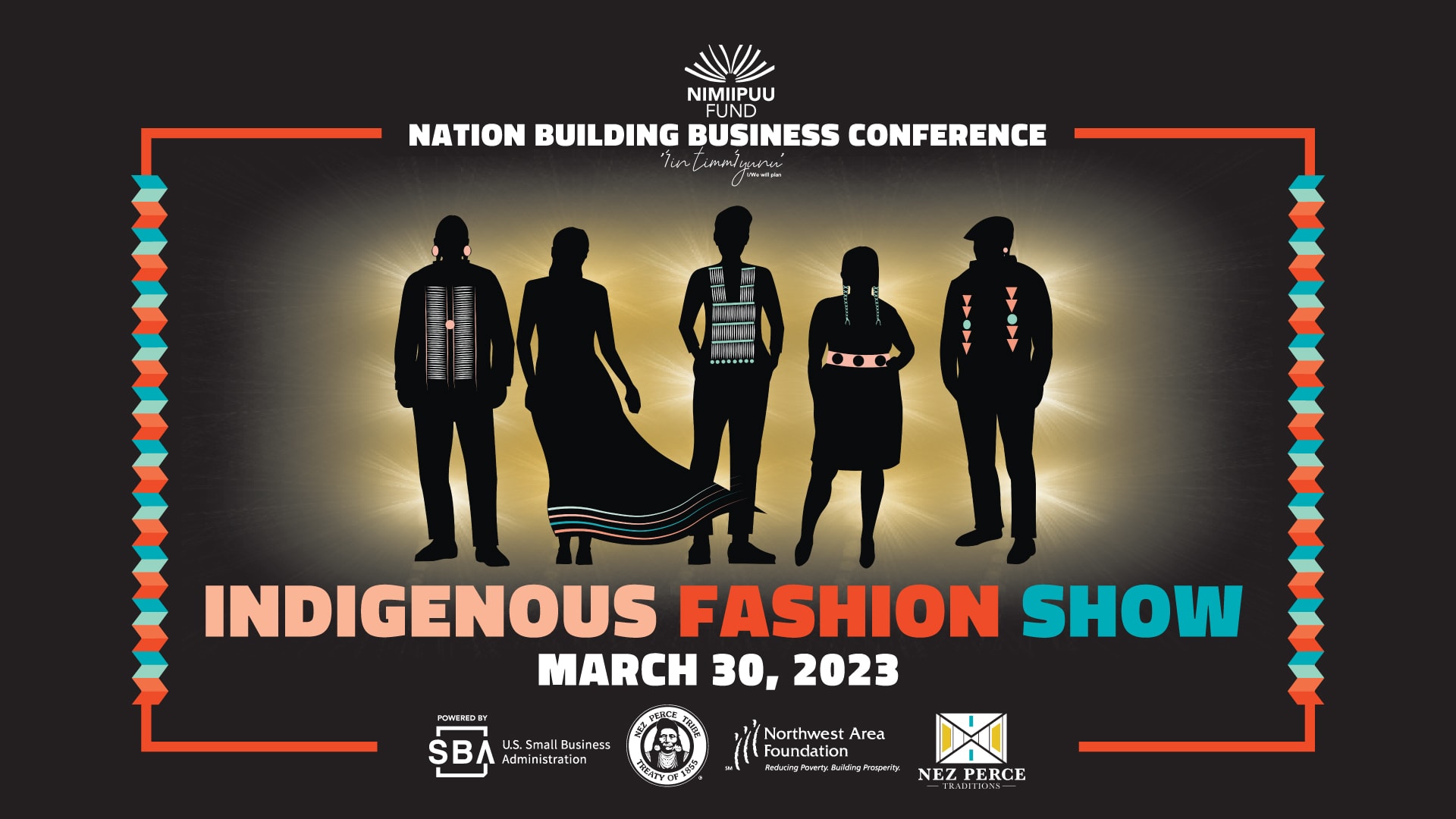 ta'c 'éetx papáayn / welcome
'iin wées nimiipuu itseyeye pelu titooqatímtki kaa sooyaapootímtki Jonelle Yearout. Welcome, my Nimiipuu name is From the Coyote, my English name is Jonelle Yearout. I serve as Nimiipuu Fund's Executive Director and am an enrolled member of the Nez Perce Tribe. We are honored to welcome you to the Nation Building Business Conference on the beautiful Nez Perce Reservation.
The theme, "'íin timmíyunu' "I/We will plan" Nation Building Business Conference explores how to support economic development and for our entrepreneurs to move beyond economic parity into economic prosperity. Our design is to connect Tribal economic development leadership, Tribal economic development staff (including general managers, economic development-related directors, planners, and tribal lenders), small-business and micro entrepreneurs, funders, and industry professionals.
We'd like to thank our team, Nimiipuu Fund Board of Directors, planning committees, the Nez Perce Tribe, Small Business Administration (SBA) Community Navigator Pilot program, and generous sponsors.
Qeci' yew yew / thank you
Jonelle Yearout, Nimiipuu Fund Executive Director

Fashion Show Presenters & Directors
Jacob Wallis
Fashion Show Director
Jacob Wallis is the Business Services Manager for Nixyáawii Community Financial Services (NCFS) a Non-profit Native (CDFI) on the Umatilla Indian Reservation. He holds a degree in Business management with a focus in User Experience Design from Oregon State University and years of experience as a creative himself. His Most recent notable work as the Creative Director for the Northwest Native Economic Summit Fashion Show. Creativity has always been an integral part of his life and his Native culture and teachings from his family especially his late grandmother Martha Franklin have amplified his passion to help elevate Native Entrepreneurs and Creatives through exciting outlets and confidence building.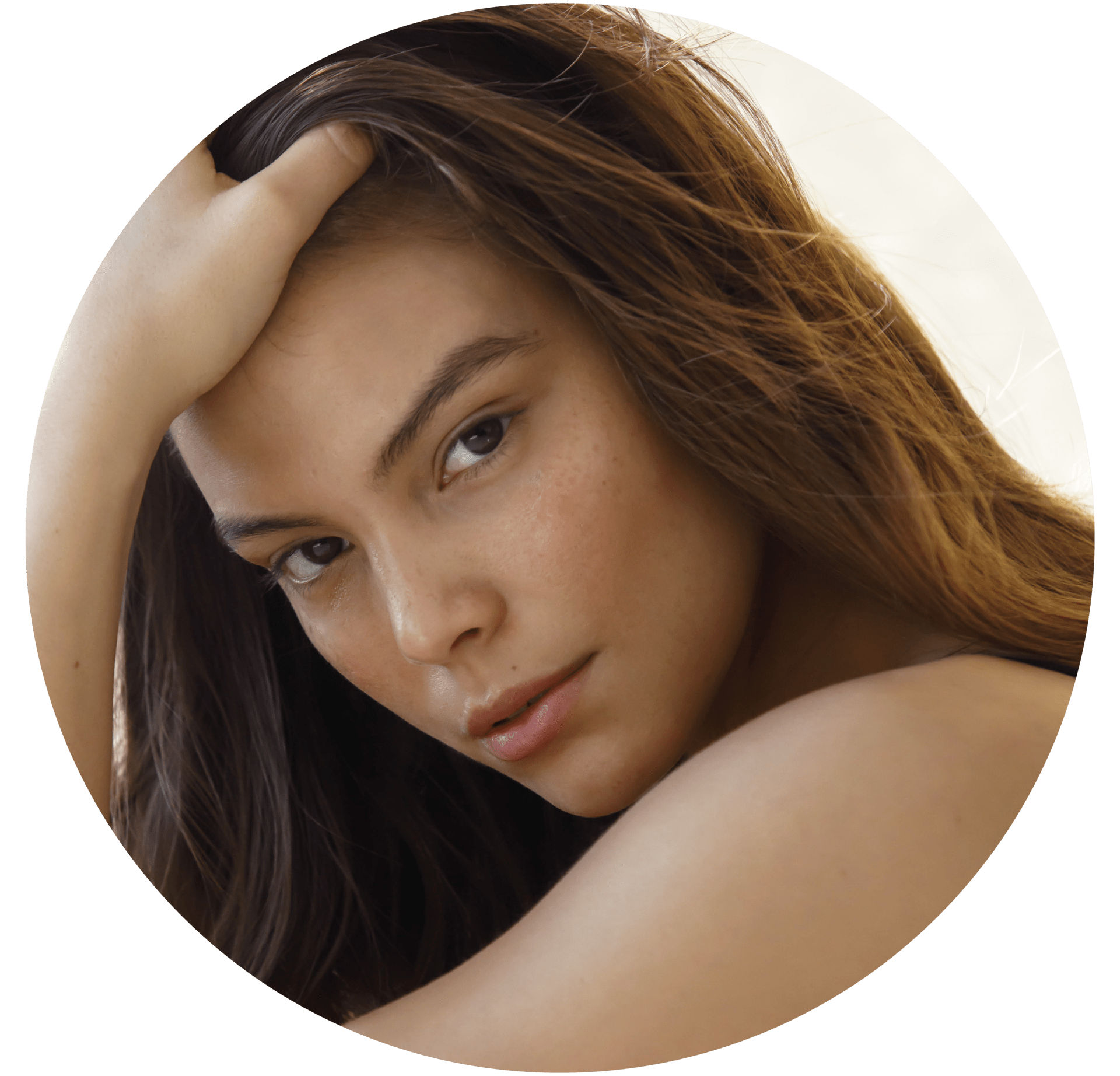 Celilo Miles
Model Director
Celilo Miles is a Nez Perce Tribal member from Lapwai, ID. Currently working for the tribes fire management program as a wildland firefighter. Her career as a model has shifted to fire and education. She is pursuing a major in communication with a minor in environmental communication at the University of Idaho. Creativity and self-expression were motivators in her modeling career. Despite leaving New York City to pursue other interests she enjoys helping others navigate the modeling industry.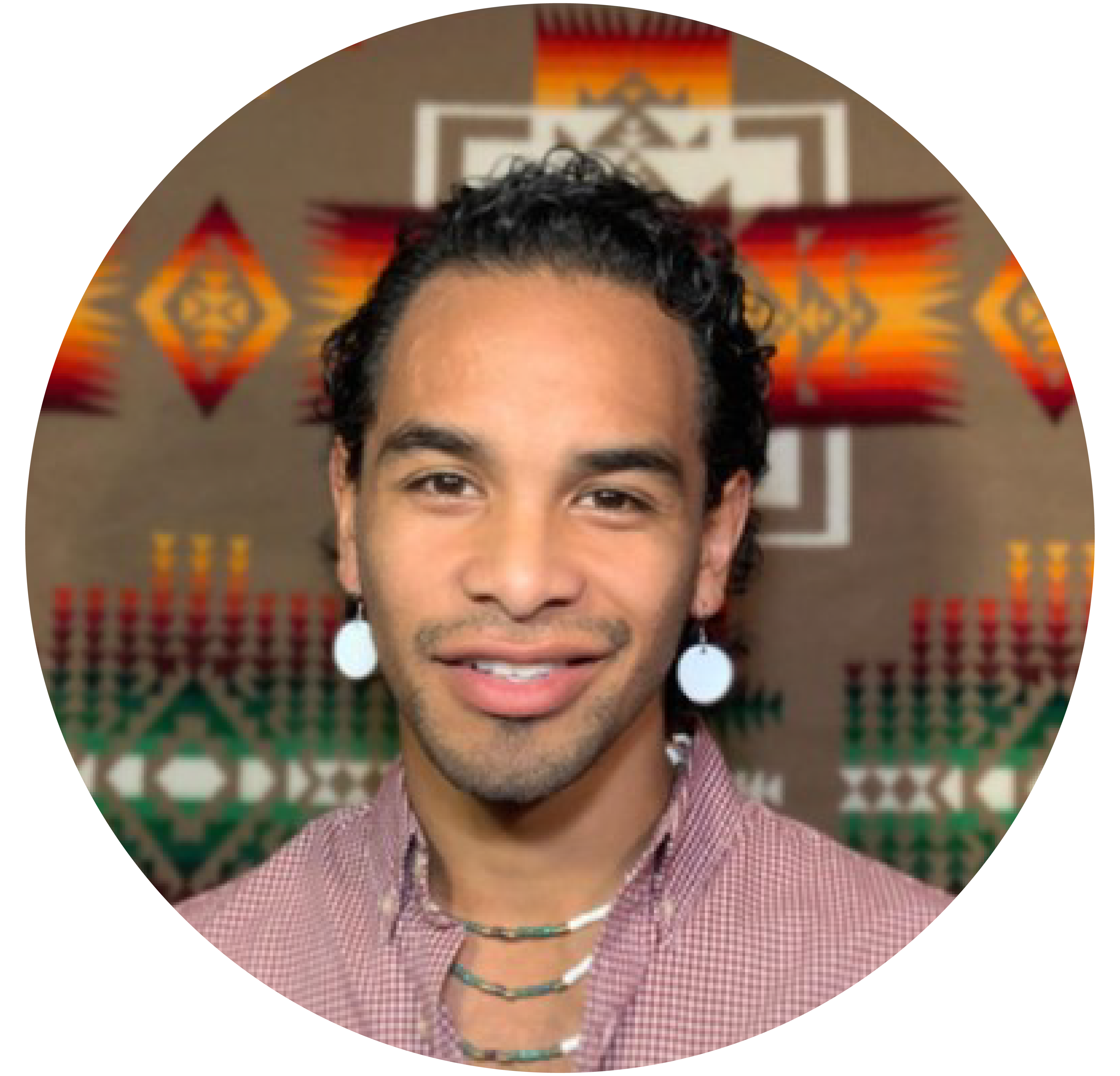 Kellen Lewis
Daniel Spaulding
Master of Ceremonies
Daniel Spaulding is an enrolled member of the Nimiipuu Nation. Daniel is an advocate for positive Indigenous representation in media and has worked in radio for 7 years as both Radio Coordinator and a Radio Personality for his Tribe's FM Radio station KIYE. Daniel is the host and producer of "The Conversation" on KIYE where he interviews renowned actors, comedians, scholars, artists, activists, and influencers within the Native American community focusing on highlighting the positive Indigenous representation in media. In addition, Daniel is a podcaster, cohosting "Brown Sound" with his best friend Javier Gomez where they share Latinx and Indigenous insights on a variety of topics highlighting the intersectionality of both cultures. Daniel has created multiple outlets to uplift and amplify Indigenous perspectives through media.
DJ Sub
Izzy
Music
Imani Mitchell is an Afro-Indigenous descendant of the Nez Perce Tribe. Mitchell graduated from Arizona State University where he earned a Bachelor's in Sports Business, followed by a Master's in Communication. Among other endeavors, he has experience in mentor and youth development positions that primarily served the youth of his hometown, Lapwai, ID. Being exposed to his Tribe's traditional teachings while living in modern society has inspired Mitchell to become an advocate for innovation and inclusion. Imani takes pride in being a student of life as he continues to challenge himself by learning and adopting new skill sets with every opportunity presented and aspires to help others do the same. In his spare time, you can find Imani playing basketball, listening to podcasts, or making music.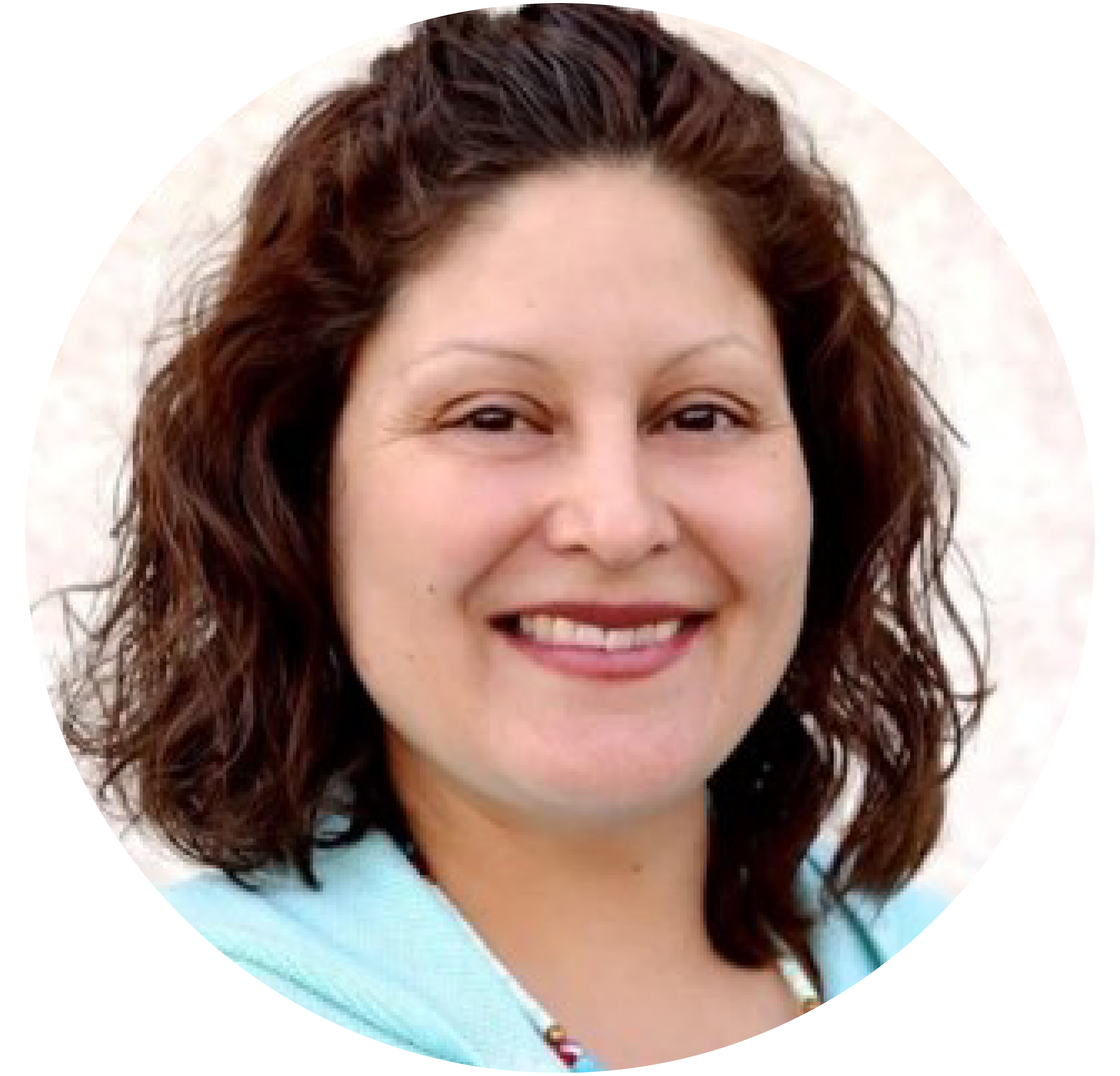 Gia Paul
Designer
My name is Gia Paul. I live in the Nimiipuu ancestral homelands with my two beautiful Nimiipuu children. I am an online educator in various school districts in the great state of Idaho. I was raised on the Nez Perce Reservation. As we live through our culture I was taught to sew at a young age by my late mother Geneva Greene Towner, My grandmother Donna Greene and my 4-H leader Donna West. As I have grown with experience over the years my applique always tells a story. I have been sewing and creating most of my life as I honor my ancestors through my gift.
Designer

At the age of 5 my mom taught me how to bead and since then I have crafted off and on.  I do a variety of artwork from: ribbon skirts, ribbon shirts, plain moccasins, beaded moccasins, beaded medallions, beaded earrings, elk teeth earrings, buckskin dresses, horse regalia, leather or shell necklaces.  I do not limit myself.  If I don't know how to make something and have the interest then I learn how to make it and continuously work on improving my skills. I enjoy crafting and I love the feeling of creating beautiful regalia as well as sharing the Native American culture.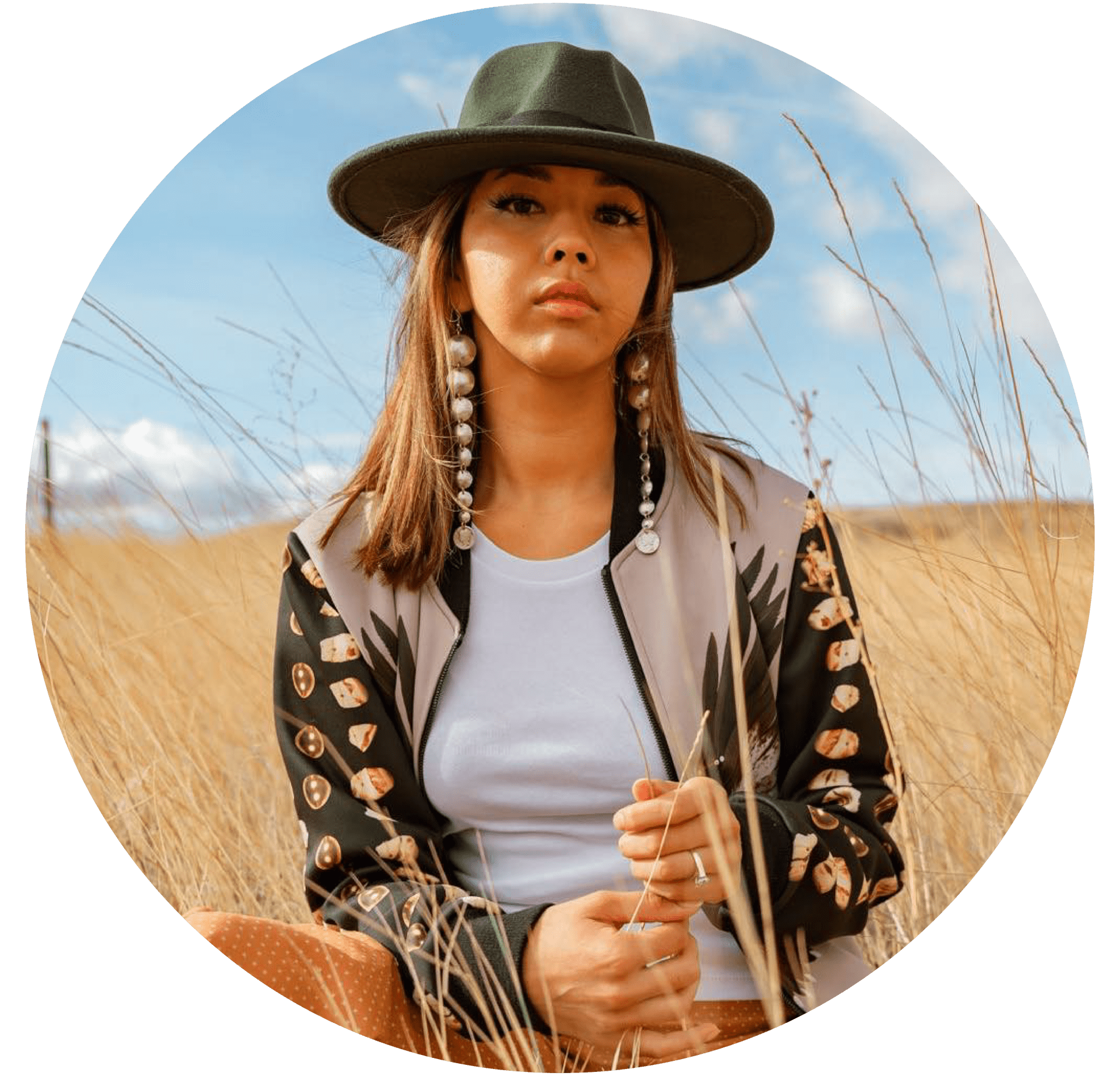 Lydia Skahan
Designer
Wiyeepi'im Collective
We are Lydia Skahan and Kiri Brown of Wiyeepi'im Collective. We are a dup from Lapwai Idaho. We have been collaborating for years on various projects and started sewing out of necessity for cultural practices. We are excited to expand our sewing practices by creating pieces that combine both traditional designs and modern concepts in unique pieces that represent ourselves, as well as our families. This will be our fashion show debut! We can't wait to share our first collaborative line with you all. Qeci'Yew'Yew'
Kiri Brown
Designer
Wiyeepi'im Collective
We are Lydia Skahan and Kiri Brown of Wiyeepi'im Collective. We are a dup from Lapwai Idaho. We have been collaborating for years on various projects and started sewing out of necessity for cultural practices. We are excited to expand our sewing practices by creating pieces that combine both traditional designs and modern concepts in unique pieces that represent ourselves, as well as our families. This will be our fashion show debut! We can't wait to share our first collaborative line with you all. Qeci'Yew'Yew'
Sylvia Peasley
Designer
Osprey Nation
I am a contemporary/ artist of rawhide who incorporates traditional wear into my art. I am enrolled as a Colville Tribal member, my bands are young Chief Joseph Nez Perce, Mose Columbia, Umatilla and San Poil. I am a great grandmother living on a ranch next to the Columbia River and Keller Ferry with my husband, grandson, horses and dogs.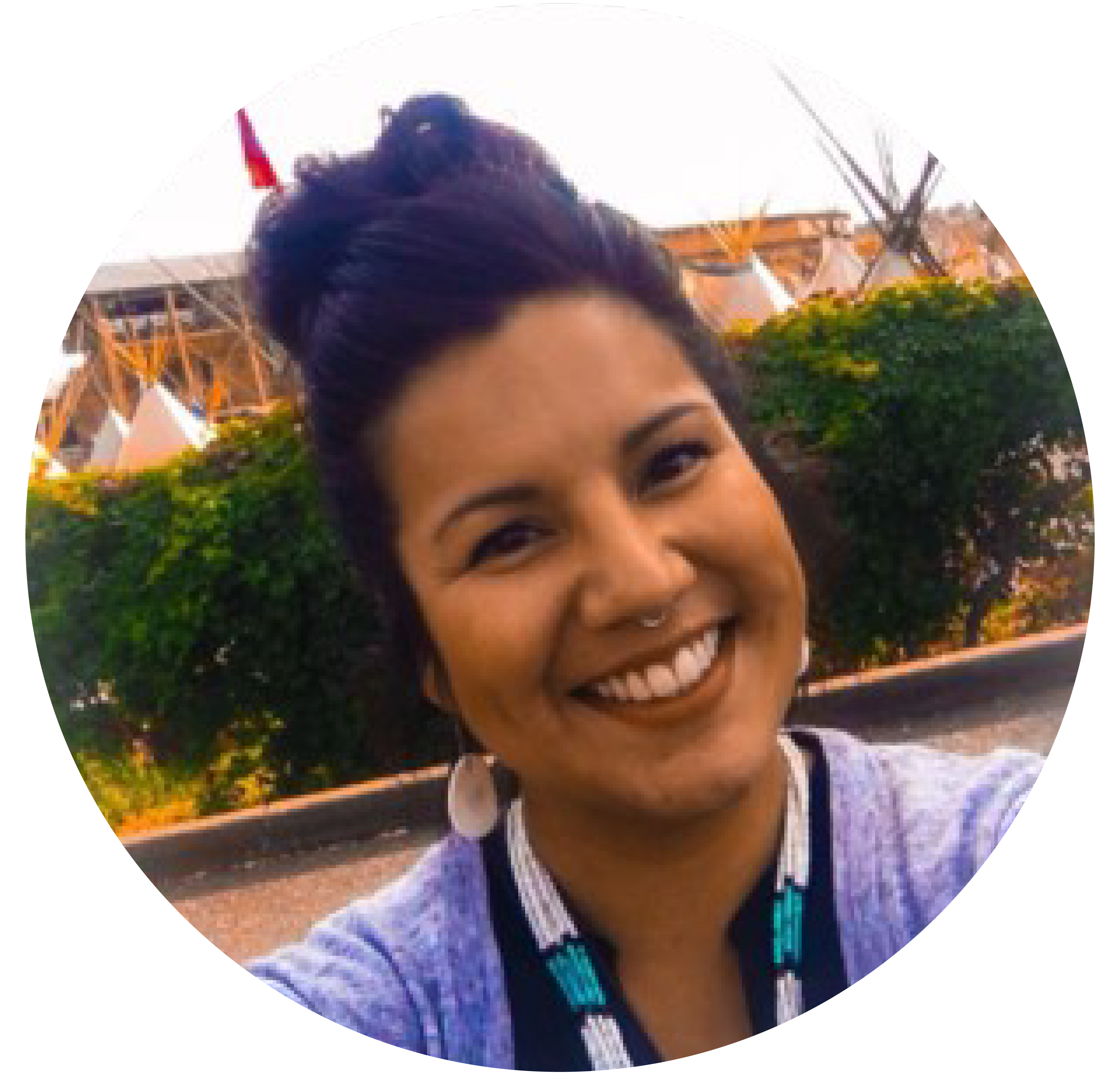 Jacy Sohappy
Designer
Jacy Micaela
Cayuse, Nez Perce and Yakama mom, daughter, granddaughter and niece. Excited to preserve our teaching and pass on to children's children through sewing and creating.
Designer
Noitan Nation
Noitan Nation (pronounced Noytawn Nation), launched in 2019, as an indigenous vision to create affordable native fashion. The brand is inclusive of every individual size representing 'The rez' with muted and ostentatious pieces in it's truest fashion.
Learn More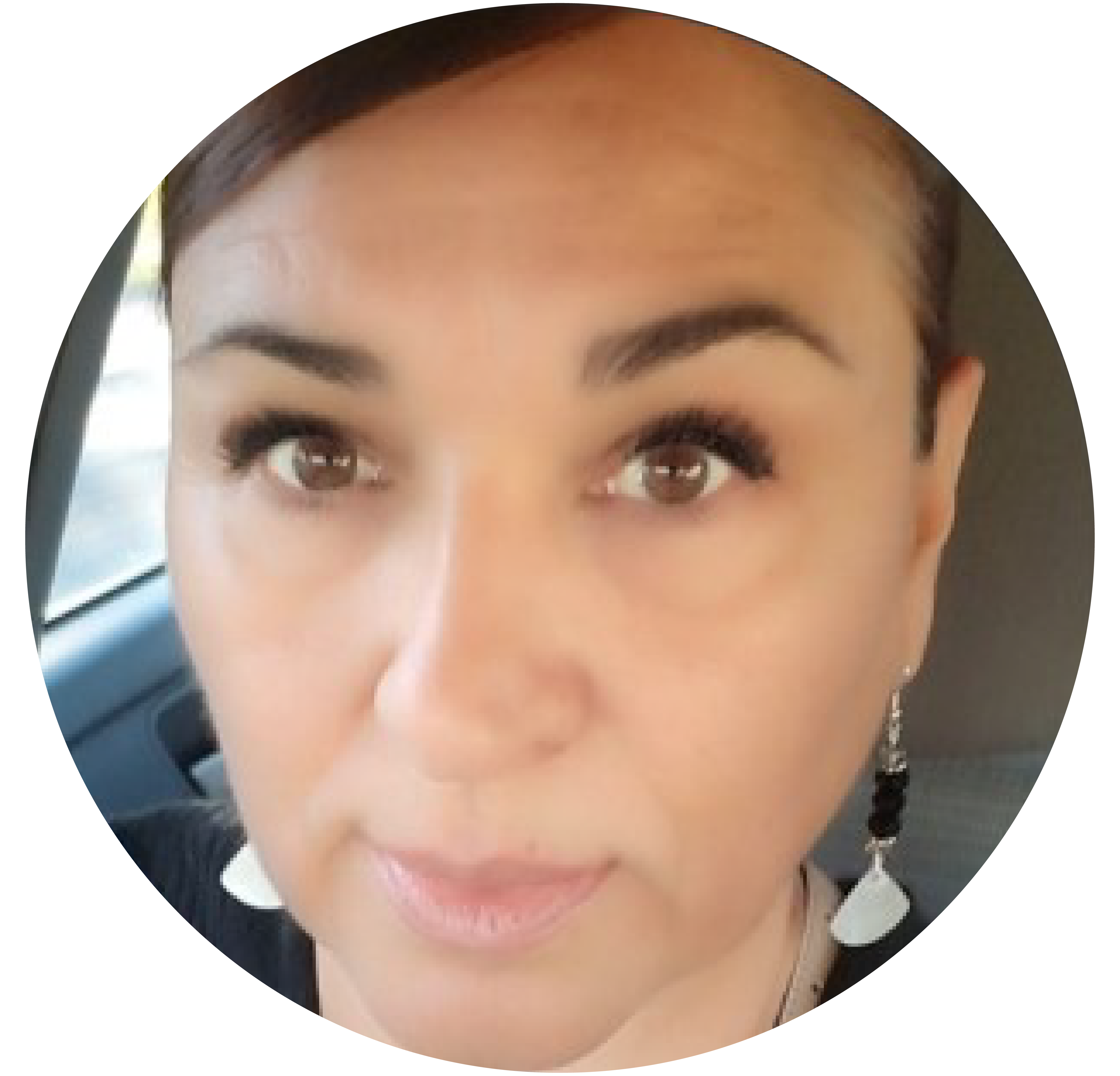 Yvette Whitman
Designer
Cloudline Design
Attended the Fashion Institute of Design & Merchandising in Los Angeles, CA. Designing for CBS Journalist, Hattie Kauffman, actress, and Miss Indian American Candidate Angel McFarland-Sobotta. Whitman is an actress under MARI - Minority Artist Rights International, working on stage, commercials and film with Keanu Reeves and Richard Bradford in "Permanent Records." As a freelance photographer, Whitman landed a cover photo for an international travel magazine. She continued to receive professional training from renowned artists, such as Marvin Oliver in silk-screening and Doug Hyde professional sculptor in painting classes. She received personal recognition from Hyde and encouraged her to create a series of using different mediums.
Designer
Indigenista Love
Indigenista Love Designs owner and designer was created by dr. renée holt who is Diné from the With the Rock and Many Goats clans and enrolled with the Nez Perce Tribe. A mother of three plus two, her designs are grounded in Diné K'é and Nimiipuuneewit himyuuma. As a means towards healing and wellness when creating her designs, her artistry centers kinship and includes colors, designs, and textiles that weaves in the natural beauty of traditional material culture while working in contemporary patterns and designs. She creates items for all genders who are working professionals creating contemporary ribbon skirts and dresses, suits, outerwear, and traditional clothing designs that are classic and timeless as a way to honor her ancestors, family, and children.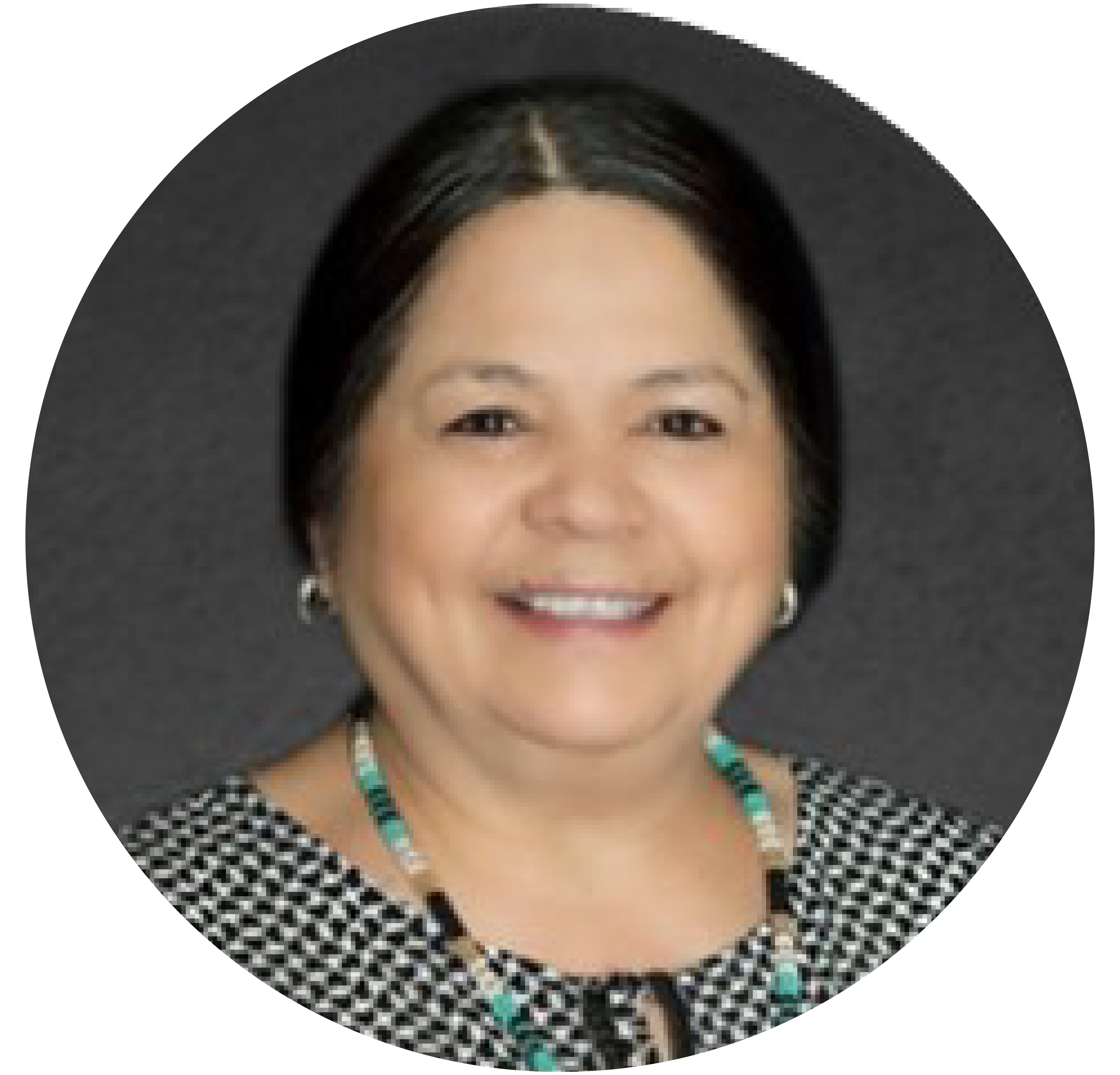 Loretta Penney
Designer
Native Creations
My name is Loretta Penney and I have been sewing for years. I make regalia, moccasins, baby boards, and many other crafts all handmade.
Designer
'Nchi.wana
'Nchi.wana is an online, Native owned small business aimed at expressing Indigenous ideas, designs, combining both traditional and contemporary elements from the Nimíipuu and Warm Springs Paiute plateau region. Items are created for the most common everyday uses embodying an aesthetic distinctive and contemporary approach. 'Nchi.wana's services not only maintain authenticity, but continues to preserve teachings and practices of beadwork, seamstressing, and powwow dance of the plateau people. 'Nchi.wana continues to set the bar for the finest, handmade, and assorted accessories and components for all individuals.
Learn More
Christa Whiteplume
Artist
C. Whiteplume Quillwork

Tansi, Christa Whiteplume. Niya ohchi wîhcêkaskosîwi-sâkahikanihk. Niya 25 askîwin kayâsi. nicawâsimisak, nîyanân & nikotwâsik. Niya itota kâkwiy atoske. Nipnâpem, kiskinohamawew Niya newwaskiy Esa.
Hello my name is Christa whiteplume. I am 25 years old. I am from onion lake Saskatchewan. My children are 5 & 6 years old. I do porcupine quillwork. My husband taught me four years ago. I so grateful and thankful to know & learn this art. I'm excited to show the pieces I have created for this event. Hiyhiy!
Designer & Artist
KUTSIE

Alexe started drawing and painting and has graduated to digital art. Once a project is complete digital art provides the ability to utilize art in a variety of ways. You can find their digital art showcased on stickers, posters, hats, t-shirts, keychains, makeup bags, glass cups and more. Celeste helps create inventory and handles the paperwork and outreach for Kutsie. She looks forward to sharing content with the community and hopes moving forward Kutsie is able to setup at many more events.
Lucinda Simpson
Artist
Lucii Simpson Tribal Doll & Necklace Making

Ep-now-mo-chut of Wal' wama Chief Joseph Band of Nez Perce.
NiMiiPuu Protecting Environment Activity including tribal activist. Currently written into Traditional Foods Grant laison for Nez Perce & Coeur D' Alene Tribes. Nez Perce Peacemaker Court Elder member.
I have been written about in Nez Perce Women in Transition written by Dr. Carolyn James, Upward Bound U of I by Isabel Bond, Teaching Native Pride by Tony T Evans, and Collaborating For Change, through Rutgers University, written by Susan Greenbaum.
Helen Goodteacher
Artist
Forward Native Works
Helen is a member of the Nez Perce Tribe with Sioux and Ponca descent and resides in Spokane, WA. Helen is a self-taught graphic designer and acrylic painter who wants to pursue clay sculpting and printing. Helen's art focuses on Native American tradition and culture, pride, and acceptance. She considers her style to be traditional art infused with modern and classic fashion. Her work focuses on portraying confident with a styled edge. Helen provides a story of movement and presence for indigenous awareness. Through a visual voice, she hopes to demonstrate many versions of being indigenous, true to one's self, traditional, and a proud indigenous Native American today.
Artist
NP Metal Art

Business owner and artist. Abe Yearout has produced metal art for the Lolo Pass Visitors Center (2022) and metal art the Clearwater River Casino.