We're hiring! Marketing & Development Coordinator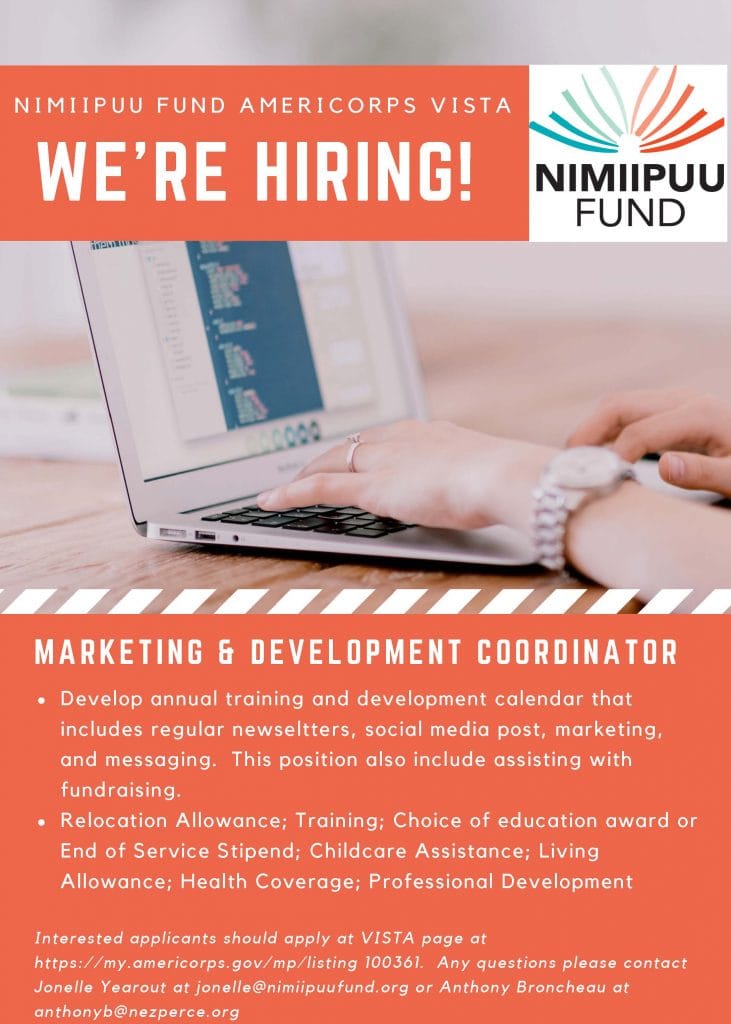 This position will address poverty through capacity building by providing program development and enhancing services provided by NCDF. The member will build the capacity of the NCDF and communities on the Nez Perce reservation by helping to provide needed capacity and services that otherwise would not be filled. VISTA member will build capacity by supporting service coordination, marketing, fundraising, and support of our nonprofit CDFI by way of Social Media, virtual meetings, and online collaboration tools. member serves to establish regular marketing campaigns, guiding clients and partners to appropriate services, surveys for community, and fundraising assistance resulting in added capacity for the NCDF by digital, social media, phone calls. First 3-6 months, and more if needed will be by remote work from home due to COVID-19 pandemic.
Member Duties
The Marketing and Development Coordinator VISTA Member will develop an annual training and development calendar that includes regular newsletters, social media posts, marketing materials, and messaging. VISTA member will also assist the Executive Director in creating a donor database and planning of fundraising events.
Program Benefits
Professional Development and experience, Living Allowance, Training, Health Coverage*, Childcare assistance if eligible, Relocation Allowance, Choice of Education Award or End of Service Stipend .
Terms
Uniforms provided and required , Car recommended , Permits working at another job during off hours , Permits attendance at school during off hours.
Service Areas
Community Outreach, Community and Economic Development, Technology, Children/Youth, Housing, Veterans, Tribal, Education, Neighborhood Revitalization, Hunger, Entrepreneur/Business.
Skills
Public Speaking, Community Organization, Fundraising/Grant Writing, Business/Entrepreneur, Conflict Resolution, Leadership, Computers/Technology, Youth Development, Law, Teaching/Tutoring, Recruitment , Non-Profit Management , Education, Writing/Editing, Financial, numbers, CDFI, First Aid, Team Work, Counseling, Communications, General Skills.
Summary
Program Type: AmeriCorps VISTA Program
Program Title: Nimiipuu Fund Marketing & Development Coord VISTA Member
Program Start/End Date: 02/16/2021 – 02/15/2022
Work Schedule: Full Time
Education level: Some College
Age Requirement: Minimum of 18 years
Program Location: IDAHO
Language: English
Seniority Level: Entry level – Volunteer
Industry: Non-profit Organization Management, Financial Services
Employment Type: Full-time
Job Functions: Finance, Sales
Listing ID: 100361

Applications
Accepting Applications: 12/01/2020 To 01/15/2021
Jonelle Yearout
99 Agency Road
Lapwai ID 83540
208-621-3729