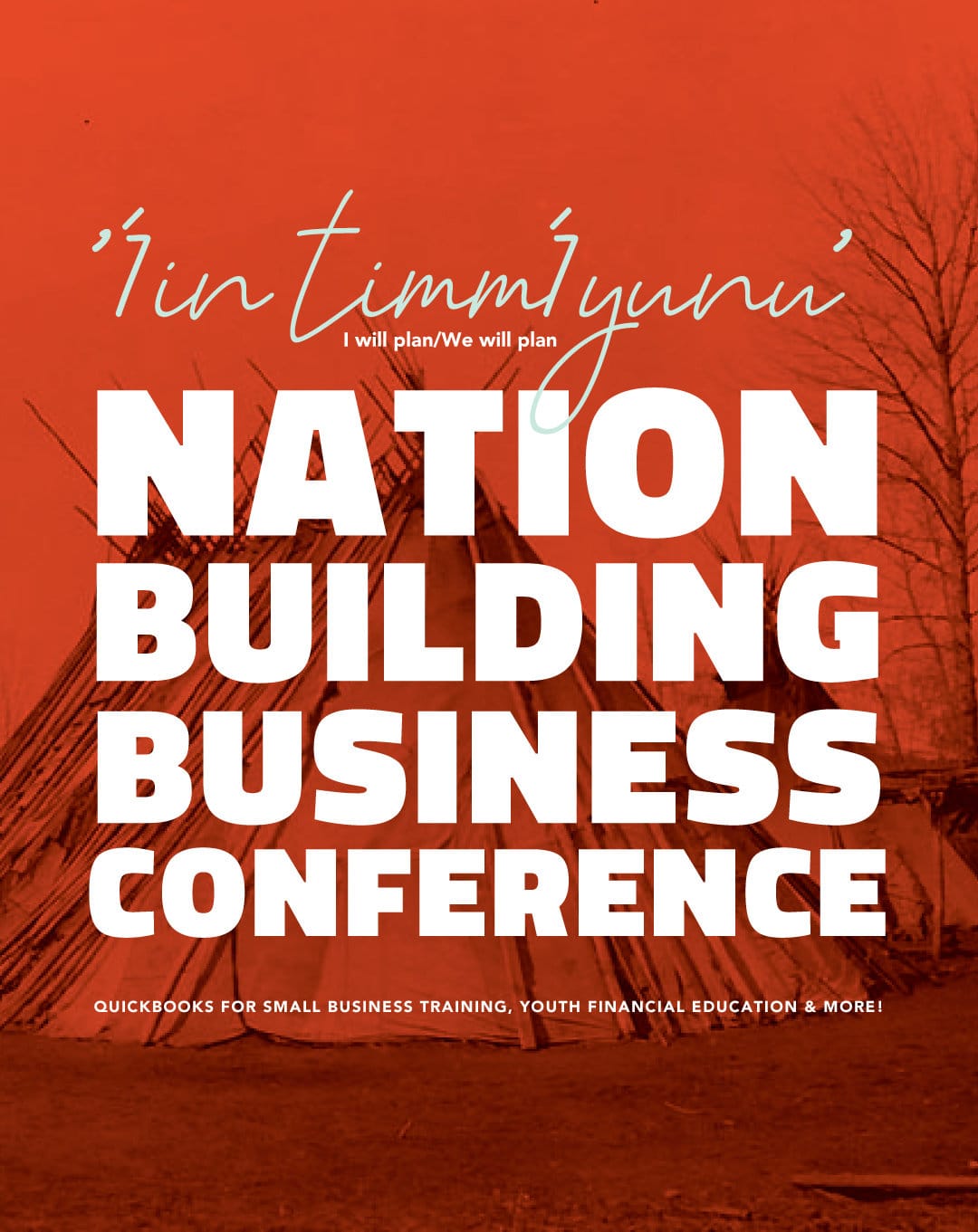 Nation Building Business Conference
March 28-31, 2023
Clearwater River Casino
The Nimiipuu Community Development Fund (Nimiipuu Fund) is proud to partner with Region 2 of Idaho Small Business Development Center to present the 2023 Nation Building Conference at the Clearwater River Casino & Lodge in Lewiston, Idaho.
The theme, "'íin timmíyunu'    "I will plan/We will plan" Nation Building Business Conference explores how to support economic development and for our entrepreneurs to move beyond economic parity into economic prosperity. Our design is to connect tribal economic development leadership, tribal economic development staff (including general managers, economic development-related directors, planners, and tribal lenders), small-business and micro entrepreneurs, funders, and industry professionals.
HAACP Certification, QuickBooks for Business, Youth Financial Education, Federal Contracting, Business Pitch Competition, Fashion Show

Thank you for considering a sponsorship for the upcoming 2023 Nimiipuu Fund Nation Building Conference! Your contributions make it possible for us to provide valuable technical assistance and support the advocacy work of the Nimiipuu Fund and provide a professional forum for Tribes, Governmental agencies, and our Native CDFI to corporate partners to address the needs of Indian Country in the Nez Perce Reservation. Your sponsorship provides for a successful event by furnishing resources for events, and so much more! And with your support, we can continue to maintain our high level of service and strive to make being a part of "Nation Building" with Nimiipuu Fund a rewarding experience. Please download the Sponsorship Package and return with payment to:
Nimiipuu Fund
PO Box 114 or 95 Agency Road
Lapwai, ID 83540
Alternatively you may pay online for your sponsorship through sponsorship "Tickets" on Eventbrite.
Questions
Contributions are tax deductible, NCDF tax identification EIN 47-1926181. We are happy to work with you to customize the details of your sponsorship, we look forward to hearing from you. If you have any questions, please contact Jonelle Yearout at [email protected], or at (208)621-3729.

Nimiipuu Fund will be hosting a fashion show with art gallery at the Clearwater River Casino Event Center. We are only taking a limited number of artist, fashion designer and model submissions to feature in this space.
Exhibition Timeline:
Registration and Submissions Due: March 1, 2023
Notification of Acceptance: March 10, 2023
Exhibition: March 30, 2023
All artists are responsible to ensure their work arrive at the event during the designated time. More details on fashion show and location will be delivered if your entry is accepted.
Stay at the Clearwater River Casino Lodge for this year's Nation Building Conference located on the Clearwater River in Lewiston, Idaho. Call (208) 298-1400 or (866) 719-3885 for our block rate of $85/per night.
Stay at the Hells Canyon Grand, just a 10 minute drive from the Clearwater River Casino Nation Building Conference. Call (208) 799-1000 for our block room rate of $114/per night.
Attendees are expected to observe appropriate behavior during the event. This includes, but is not limited to, respect for the presenters, host, and other attendees and a prohibition on any abusive behavior. Attendees are not permitted to share any malicious files or information, or spam, and are prohibited from using offensive, threatening, or violent language when contacting other attendees electronically. The ability to participate and format for said participation is at Nimiipuu Fund's sole discretion, including the ability to verbally or electronically interact with other attendees. Nimiipuu Fund reserves the right to remove or restrict any attendee due to a violation of these terms and to enforce bans from future sessions or events. Please carefully review the Duty of Care regarding health precautions prior to registering.