2018 "Women in Business" Expo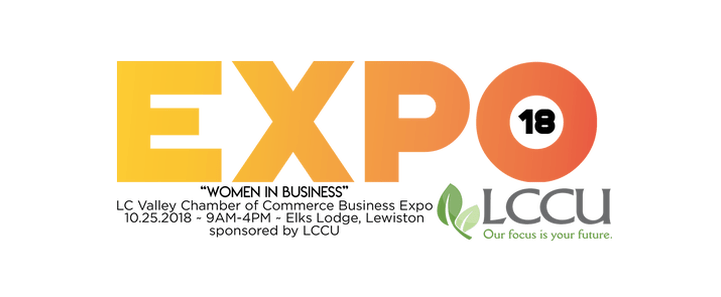 Name: 2018 Business Expo "Women in Business" sponsored by LCCU
Date: October 25, 2018
Time: 9:00 AM – 4:00 PM PDT
The Lewis Clark Valley Chamber of Commerce presents the 2018 Business Expo sponsored by LCCU on Thursday, October 25th from 9AM-4PM at the Elks Lodge in Lewiston. This year's theme is "Women in Business". We will feature amazing women speakers speaking about topics everyone will be able to relate to.

This event is changing a bit! You'll still be able to learn about different businesses in the Valley by visiting different booths, but you'll also be able to hear from three keynote speakers, attend two breakout sessions with educational topics.
Keynote Speakers:
-SSG Candi Rash, North Idaho Honor Guard Coordinator and National Guard Soldier
-Betsey Moe, Writer/Speaker and Presbyterian Minister
"Finding Your Voice"
-Rene Johnson-Gingrich, Employee Engagement Consultant & Trainer
"5 Key Strategies for Successful Employee Engagement"

Breakout Sessions:
-Wendie Kause – "Engaging Different Generations and Cultures in the Workplace"
-Darrah McCall & Nicole Dufford of Simply.Living.Better "Honor Your Pace"
-Entrepreneur Panel – "Things You Need to Know When Starting A Business"
Price is $25 to attend, which includes lunch and a Happy Hour beverage ticket and of course, full access to the day's speakers and seminars!

Interested in having a booth? Chamber members pay $200 and non-members pay just $250. Sponsorships are available as well.