2022 Golf Scramble a Success
The 2022 Nimiipuu Fund Golf Scramble was a success and we could not have done it without our wonderful volunteers, raffle item donations, sponsors, and the staff at Red Wolf Golf Club. We thank you! Please take a few moments to fill out our Golf Survey so we can make next year's event more successful. We truly appreciate your feedback and participation: https://www.surveymonkey.com/r/3DTVLS7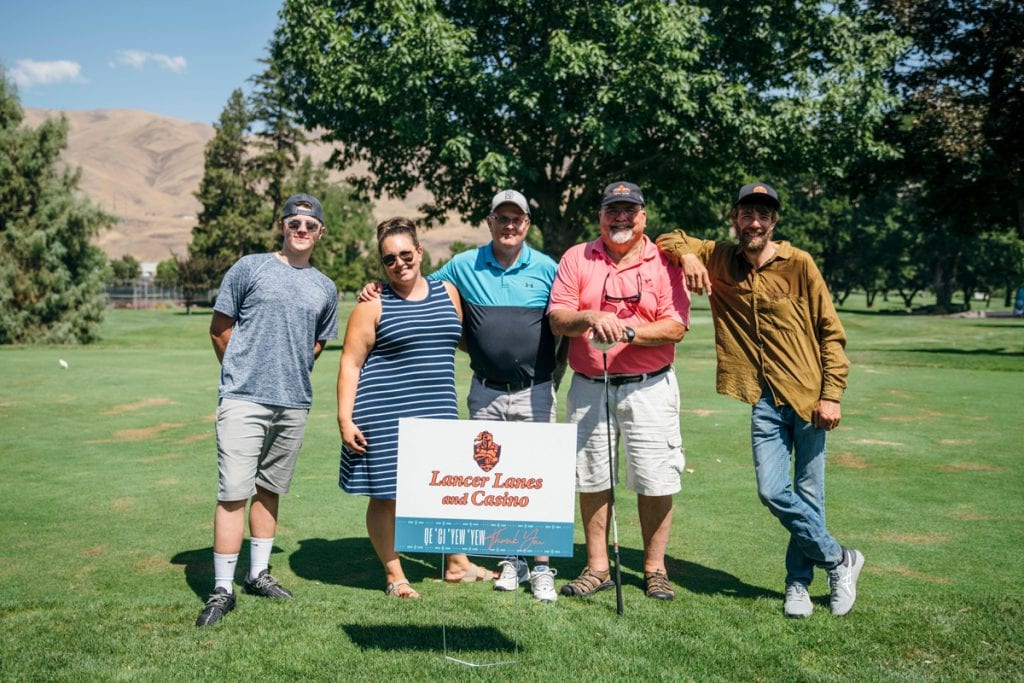 Thank You Volunteers
To those that helped our 2022 golf scramble run smoothly, the volunteers and Red Wolf staff, as a token of our appreciation, for the hard work, dedication, and teamwork exhibited, we'd like to gift you with a Black Bison gift card. Pick up at our Nimiipuu Fund office at your convenience.
2022 Nimiipuu Fund Golf Scramble Volunteers: Rachel Edwards, Jasmine Higheagle, Sincere Threeirons, Susie Rios, Faith Sabot, Marsan Lawyer, DaviJo Whitman, Jacelyn Yearout, Renee Carter, Elsie Cree, Janelle Chief, Sonya Samuels, Ernie Whitman, Cara Wilson, Renee Holt, Pete McCormack, Wetalu Henry, Duane Lane, Nishoni Whitlock, Roberta Bisbee, Paulette Smith, Jamie Olson, DJ Sub, and all the Red Wolf Staff.
Raffle Results
Native Comedy Jam Tickets at Clearwater River Casino: Riston Bullock & Jennifer Rapoza
Clearwater River Casino Swag Bag: Riston Bullock & Jennifer Rapoza
Nez Perce Tribe Golfer's Swag Bag: Hazel Arthur
Yeti Engraved Mugs by Hells Canyon Design: Susie Rios
$100 Bronca Gift Certificate: Dawn Leighton
Pendleton Items: Jennifer Rapoza
Swag Bag (NCDFS): Dawn Leighton
Wildhorse Casino Stay and Play: Abe Yearout
Coeur d'Alene Casino Stay & Play: Fr. Mike St. Marie
Aquatic Center Tickets (4): Scott Keller
Star Quilt: Nashoni Whitlock
$50 Happy Day Gift Certificate: Renee Holt & Stacey Kash
EIEIO Ranch Breakfast Meats: Ron Halfmoon
Hogsback Deli Gift Certificate: Ty Domebo & Mitch Wilson
Mariana's Tamales Gift Certificate: Mike Tuell, Ron Halfmoon, Nikoli Greene, Samantha Smith & Keith Kipp Sr.
Beaded Necklace by Trenal Original: Dr. Kim Hartwig
Nez Perce Loop Necklace by Anthony Higheagle Jr.: Bria Vanpelt
Native American Eye Shadows: Renee Holt
Nez Perce Tourism Jet Boat Tour: Lilly James
Skalicky's Gift Card: Juli Thorson & Bob St. Paul
Huckleberry Basket: Susie Rios
Golf Themed Puzzles (2): Trelle Lewis
Golf Themed Quilts (2): Shannon Wheeler
Nimiipuu Fund Shirt: Lilly James & Tonia Aripa
Red Wolf Gift: Wetha Monelongo and/or Riston Bullock
Golf Photos
Golf photos are available for purchase at: https://heartsfoto.smugmug.com/Category/Nimiipuu-Fund/n-jxVgbj/2022-Nimiipuu-Fund-Golf-Scramble-HR/i-Gq3kb7k/A. Major Sponsors receive complimentary photos, please contact the Nimiipuu Fund office for your special photo link to download.