Welcome to the 3rd Annual Nimiipuu Fund Golf Scramble, Thursday August 11, 2022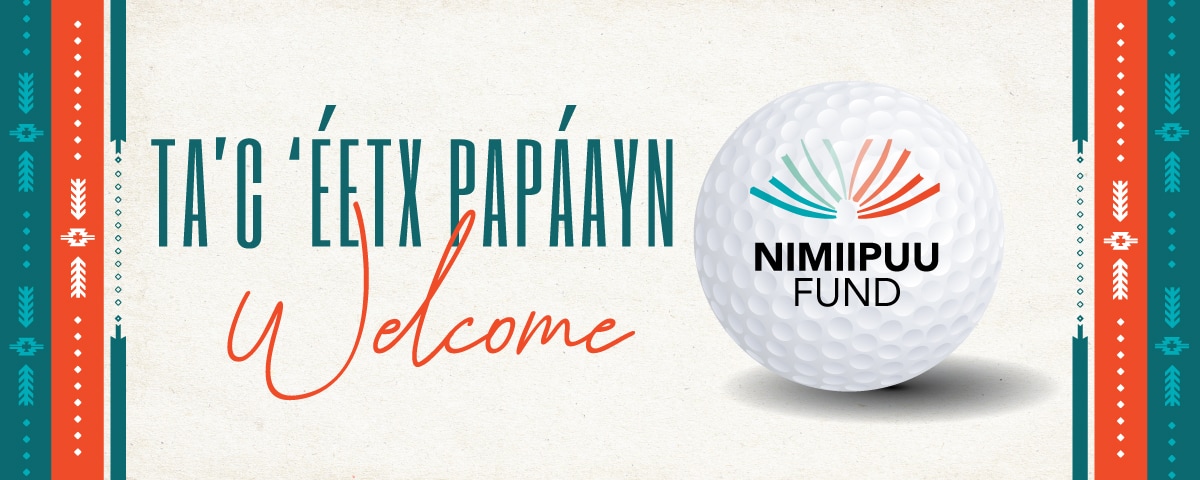 We are excited to welcome you back to another great event of golf and fundraiser for our Nimiipuu Community Development Fund, Native CDFI.  This event is one of our highlights to bring our community, funders, and local businesses together.  We thank you for your interest in participating as a volunteer or player of our 18-hole scramble at the beautiful Nez Perce Tribe's Red Wolf Golf Club, Clarkston, Washington.   
For the past few years, we found that our sponsors elevate this event that helps raise funds for our nonprofit that assists with our Vision – "A better financial life by advancing individual self-determination and self-sufficiency for every community member" by offering services and affordable loan products to individuals and businesses.
Walkup registration next to the Red Wolf Pro Shop starts at 7:00 am.  Grab-n-go breakfast burritos will be available along with a coffee station provided by Nez Perce Express.  Registration, team check in, and side bets are all taken at this time.  Make payments payable to Nimiipuu Community Development Fund or bring cash for those side bets!  Our Yakah "Bear" Sponsors, Kauffman and Associates along with NDN Fund funded scoreboard and be sure to say thanks to these organizations.  
Troy "Trigger" Teal, 5 time World Professional Long Driver Championship Competitor and Air Force Combat Veteran will be attending to hit the ball for our golfers.  Troy is bringing one of his associates this year, so we'll have two locations on the course where golfers can have a PRO hit a ball for you.  Make sure to bring your cash or card for our golf pros.  Troy will not be hitting at the Hole-in-One spot, so that is on the golfer!  We thank HUB Insurance for sponsoring the $10,000 Hole-in-One Contest.  
AGENDA:
7:00 – 8:00 am
Team Check In at Registration table. If you need golf clubs or items from the pro shop, contact Amleto "Zeke" Domebo at (509) 758-7911.
7:30 am 
Breakfast Out
8:00 am
Welcoming Remarks
8:10 am
Demonstration by Troy Teal
8:15 am
Shotgun Start – Teams assigned to hole. Beverage Stations at #1 & #10.
$10,000 Hole-in-One Challenge TBD. Troy Teal hole #11 & #3
12:30 – 2:00 pm
Lunch & Awards
Our partners from Idaho Women's Business Development Center, Idaho Connect, and the Oregon Native American Chamber will be attending to network and offer resources for starting a business or business support. We look forward to connecting these resources.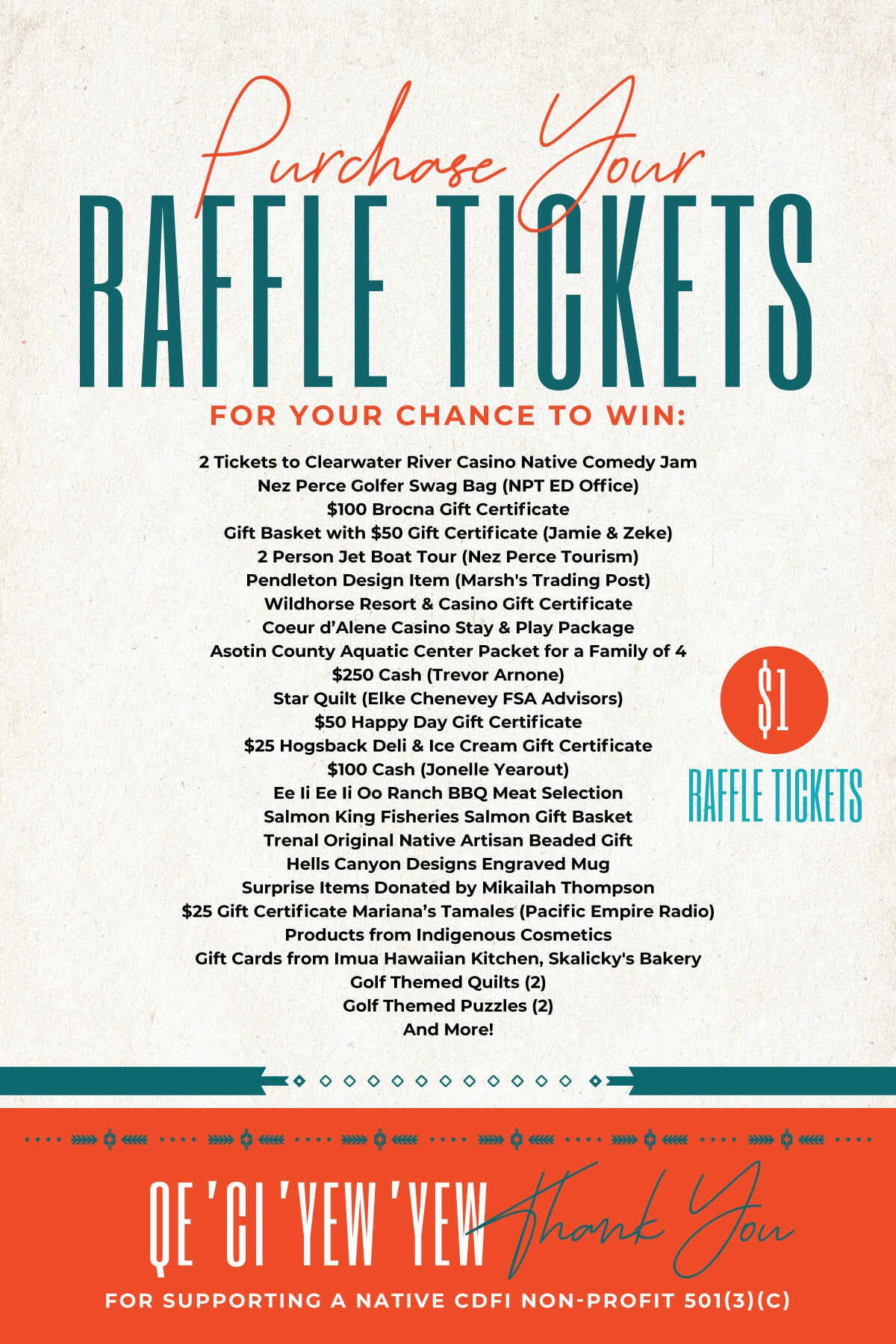 Raffle item list is attached and items will be displayed at the club house. Tickets can be purchased from our office at the event. We thank individuals and business owners who donated towards our raffle. Finally, this is all possible to our devoted Nimiipuu Fund team and AmeriCorps VISTA member (Lauren Arthur), board leadership, volunteers and sponsors. We cannot do this without you! For additional information, contact our office at 208-621-4847 or [email protected].
We'd like to give a round of applause to our Weptes "Eagle" Sponsors – Nez Perce Tribal Enterprises and Merrill Lynch, Larson-Kirkpatrick Group for their contributions to move this event forward. Nimiipuu Fund appreciates your support!
Respectfully,
Jonelle Yearout, Executive Director