Idaho Hispanic Foundation Announces Newly Formed Collaboration with the Idaho Women's Business Center and Several Idaho Native American Tribes
The Idaho Hispanic Foundation announces newly formed collaboration with the Idaho Women's Business Center and several of Idaho Native American Tribes.
We are thrilled to announce the recent formation of the Idaho Native American Women Business Alliance. The mission and purpose of the Idaho Native American Women Business Alliance is for the Idaho Women's Business center to foster relationships with all Idaho Native American tribes and to link them with statewide partners who are dedicated to engage, educate, and empower tribal women to start and grow thriving businesses. We do this by hosting events and trainings with members of the tribes, offering one on one counseling with Native American small business owners and connecting them to our vast resources and statewide partners.
Additionally, we have created a private Facebook Group and invite all Idaho tribal women to join this group to promote their business, products, and services, to collaborate with each other and to create a stronger community alliance creating relationships with those of other tribes.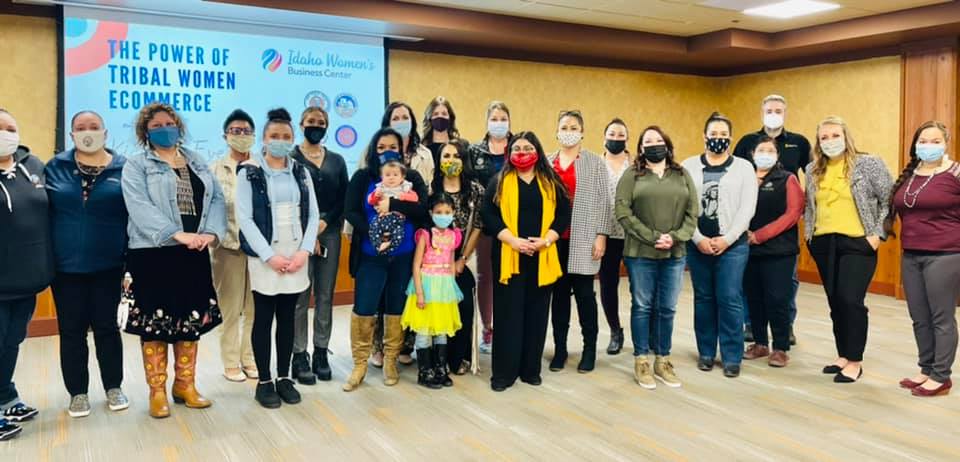 The conversation of an alliance began over a ago between Ann McCormack, Nez Perce Tribe Economic Development and Diane Bevan, Executive Director of the Idaho Women's Business Center (IWBC) in discussing how we can link arms with all Idaho tribes in an innovative way.
"The reason I recommended that we form a Native American Women's Business Alliance in Idaho is so we can gain important knowledge about each other and the resources available. To strengthen our business-to-business network within the five Tribes. There is a need to enhance competitiveness, divide risks, build capacity and to scale economies of scale among the 5 Tribes."

Ann McCormack, Economic Planner, Nez Perce Tribe
The Alliance started with a kickoff event hosted by the Coeur d'Alene Tribe, The Power of Tribal Women in Ecommerce on March 25, 2021, attended by tribal leaders, members of the IWBC staff and local Native American entrepreneurs. Key note speakers included CDA Casino CEO, Laura Penney and recognized business owner, Margaret Jose.
"It was an honor to welcome you all to our home. What a great event!"

Laura Penney, CEO CDA Casino
"Qec'yew yew (Thank you) for kickstarting this movement for Native American women and entrepreneurship."

Jonelle Yearout, NCDF Executive Director, Nimiipuu Fund CDFI
Shortly after the initial kickoff, the joint organizations co-hosted an event with Leslie Deer, Muskogee Nation, Apparel Designer, who wowed the audience with her story of resiliency and determination. Her journey to become a nationally recognized culturally specific clothing designer is available on the IWBC On demand library.
More recently, the Alliance hosted their 2nd kickoff event with the Nez Perce Tribe on August 17, 2021 was hosted by the Clearwater Casino and Nimiipuu Fund. Keynote speakers included Kermit Mankiller, Nez Perce Tribal Enterprises Business Operations Director and business owner Jo Ann Kauffman, Owner of Kauffman and Associates, Inc., (KAI), a management consulting firm with offices in WA DC and Spokane, WA. KAI employs over 50 professionals to help tribes, states, federal agencies, and private foundations tackle problems and achieve goals.
The next kickoff event will be held at the Shoshone Bannock Tribe reservation hosted by the Casino. It is the desire to host on-site events at each Idaho Tribe offering a virtual hybrid model so that attendees across Idaho can participate. The Alliance will continue to develop this new partnership as they work together to provide technical assistance, financial training and increased access to capital and one on one counseling.
IWBC Associate Director, Tatiana Morales and Statewide Outreach Director, Susie Rios have taken the lead on this IWBC efforts of engagement with the Alliance. The initial members of the Alliance include Ann McCormack, Jonelle Yearout, Stacia Morfin, owner of Nez Perce Tourism and Tradewinds Gift Shop, Elva "Cookie" Allen, CDA Economic Development, Shaina Nomee, CDA Tribe, Roseanna Allen, CDA Tribe, Shaylynn Kellog, Shoshone Bannock Tribe and Yolanda Bisby of the University of Idaho.
Conversations are currently underway with the remaining Idaho Tribes.
"In the short time since opening, IWBC has already proven itself an invaluable resource for small businesses across Idaho. Now more than ever, IWBC's services are a precious lifeline to business owners and entrepreneurs, and I am pleased to see the center broaden its footprint in rural Idaho."

U.S. Representative Mike Simpson
"Idaho's entrepreneurs and business leaders are at the heart of our state's economic success. I want to thank the Idaho Women's Business Center for the continued support of Idaho's women entrepreneurs in our cities and rural communities. This expansion will help provide the important services Idahoans can use to flourish in our state's business-friendly environment."

Idaho Governor Brad Little
---
About Our Partners
Nimiipuu Fund facilitates financial independence by enhancing the personal and entrepreneurial capacity of the Nez Perce Reservation and surrounding communities. We promote economic growth while embracing our cultural values and traditions by providing tailored financial products and services.
North Idaho Native Fund (Coeur d'Alene Tribe) – The North Idaho Native Fund is a CDFI that provides the community in and around the Coeur d'Alene Reservation who works with businesses to create jobs, develop long-term economic self-sufficiency, and facilitate access to capital. The CDFI Fund uses grant awards to invest in the capacity of Native CDFIs. This empowers them to grow, achieve organizational sustainability, and drive community revitalization.
Nez Perce Tribe – The Nimiipuu people have always resided and subsisted on lands that include the present-day Nez Perce Reservation in north-central Idaho. Today, the Nez Perce Tribe is a federally recognized tribal nation with more than 3,500 citizens. The Nez Perce Tribe is consistently one of the top 3 regional employers in North Idaho, contributing millions of dollars to Idaho's economy.
Shoshone Bannock Tribe – The Shoshone Bannock Tribes are located on the Fort Hall Reservation in Southeastern Idaho, between the cities of Pocatello, American Falls, and Blackfoot. The Reservation is divided into five districts: Fort Hall, Lincoln Creek, Ross Fork, Gibson, and Bannock Creek. Currently, 97% of the Reservation lands are owned by the Tribes and individuals.
About IWBC
The Idaho Women's Business Center is hosted by the Idaho Hispanic Foundation 501c3 and funded in part by a cooperative agreement with the US Small Business Administration.
The MISSION of the Idaho Women's Business Center is to SERVE all Women, Cultures and Communities in Achieving their Educational, Professional and Entrepreneurial goals. WE BELIEVE in the Potential of Women, Minorities, Immigrants and Families. WE CHOOSE to Educate, Train and Help them obtain Successful Business Ownership and Employment. The IWBC drives innovation, entrepreneurship, and economic empowerment in Idaho through high impact programming, one-on-one consulting, commercialization support, talent development, collaboration, and connection to resources.
---